It's here, it's here... It's the 2015 NFL Draft!
I'll be updating the page as it goes... so you'll need to refresh. If you care, And face it, no one cares. I'm pretty much typing this for me and 3 people who feel sorry for me. Or something.
The Tampa Bay Buccaneers are on the clock.
Side Note: I have done little to no research on the draft this year, the prospects, or what team's needs are.
So, if you are looking for half baked thoughts, unresearched ideas, and unsubstantiated drivel from someon who doesn't know anything...this is the live blog for you.
The Commisioner is on his way to the podium.... Is it Jameis Winston?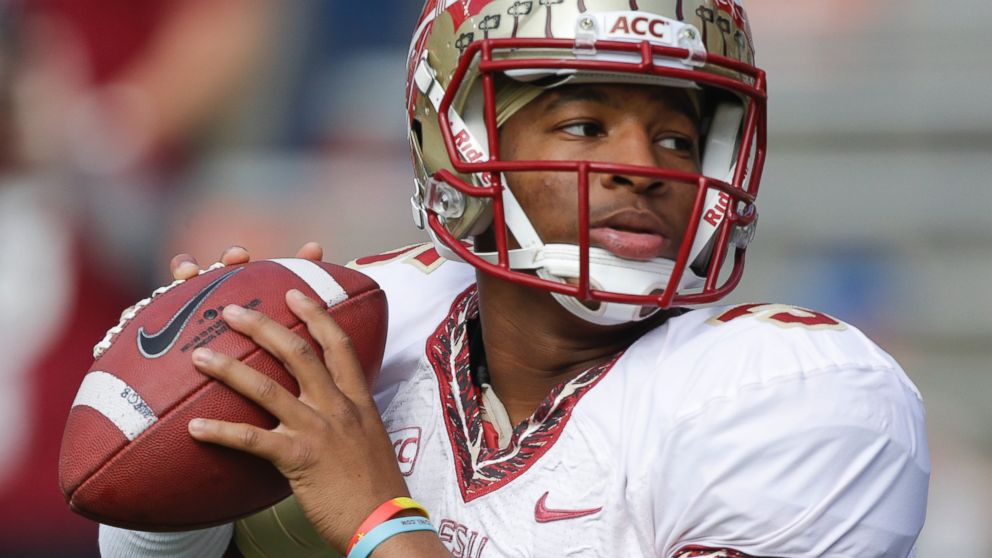 And it is! The Tampa Bay Buccaneers select the Quarterback from Florida State as expected.
He is a good prospect, but surrouned by a number of off-the-field issues. I do know this... I watched Florida State a few times the past few years, and although he makes some mistakes... he made several throws that I don't think any other QB in the college game could have made.
Whether he makes it or not, I have no idea, but he certainly has the ability to.
The Tennessee Titans are on the clock.
Here is where it gets interesting.... Titans have been fielding offers for teams looking to trade up to get Marcus Mariotta all day.
In fact, I got a phone call from my brother Rich, who is a Bears fan, who said he heard the Bears were trying to get him...they were offering some picks and Jay Cutler. And, the Titans don't want Cutler. (any chance to get a shot in on Cutler, is fine practice in my book).
Some of the teams rumored to be interested in Trading for Mariotta - Chicago (according to Rich), Cleveland, the NY Jets, Philladelphia, and San Diego (but that ain't happening).
The Pick is in.
And it's, it's, it's... Marcus Mariotta the QB from Oregon.
Not surprising, and kind of almost expected... the excitement was whether the Titans would trade the pick or not.
Mariotta is talented for sure. The guy put up video game numbers in college.
However, I watched the CFB Championship game against Ohio State, and there were plays to be made, and he couldn't make them. Maybe it was a bad day, but I saw the things that were knocks on him... struggles to deliver the ball in tight spaces... But he could turn out to be a great one. He is certainly all kinds of athletic, and by all counts and tremendous young man.
The Jags are on the clock, and the pick is in already. I'm guessing it's the D-Lineman from USC.
Let me go check twitter.
Nothing on who the Jags picked... but lots of people making fun of Commisioner Goodell for mispronouncing Mariotta's name.
Not to toot my own horn, but I've been Misspelling Mariota's name this entire Blog!
The Jaguars Select: DE Dante Fowler from Florida.
He's a good player, but I don't know much about him. I thought the first Defensive Player was supposed to be the guy from USC? Also, thought that Amari Cooper the WR from Alabama could have been taken.
The Raiders are on the clock...
...and the pick is in.
The rumor was that they liked Amari Cooper from Alabama.
And.... They Do! Amari Cooper the WR from Alabama.
I've seen him play a bunch of times. He's really good.
Here's how you know Amari Cooper is good. Remember Nick Saban. Alabama? Slam the ball. Beat you up with superior talent up front. Well, last season... they threw the ball more than every before. Amari Cooper had 124 catches last season, and his closest teammate has 40. That's how good Amari Cooper is.
However, I still hate the Raiders.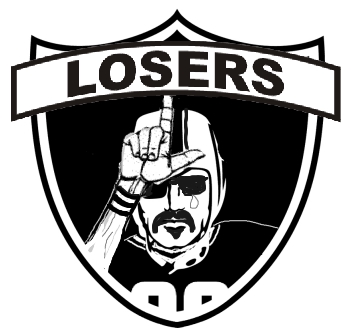 The Redskins pick is in:
Brandon Scherff OT from Iowa
Here is what I know about Brandon Scherff. He played for Iowa. He was high on people's draft boards. That's about it.
I'm pretty sure RGIII is in favor of this selection... someone to protect him and his gimpy legs.
The Jets are on the clock with the 6th pick in the draft.
Biggest Surprise so far... Leonard Williams from USC hasn't been picked yet. According to the few articles I read about the draft this year... some people felt he was the best player...not best Defensive Player...but BEST PLAYER OVERALL.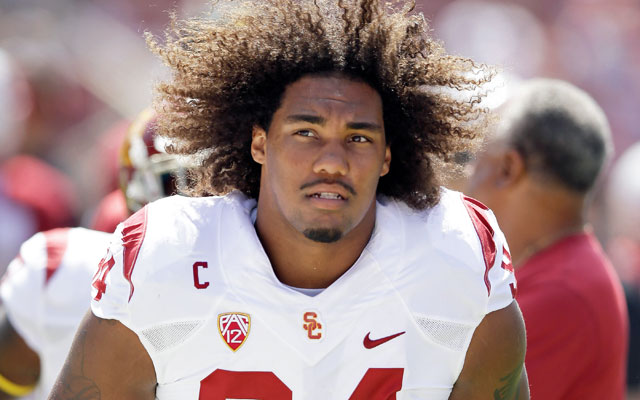 Maybe Williams hair scared teams off?
Interesting to see what the Jets do here.
(Kiper just said... Williams was the #1 player on his board)
(And then he followed it with... "I'd take Kevin White".... Mel Kiper, Everyone!)
This Just In:
Tom Jackson thinks Gary Kubiak will be NFL Coach of the Year
Kind of Glad the Jets took their time... I was falling behind.
And, the Jets take Leonard Williams.
-I like it if I'm a Jets fan. Because this: You got probably the best player in the draft... probably the biggest sure thing in the draft. With the 6th pick in the draft.
If I'm another team in the AFC East (Bills, Dolphins, Patriots), I'd like to line up those 5 teams that passed on him and slap them like Curly and Moe.
The Bears are up next...and the Pick is in.
What do they do? Kiper thinks WR. Others saying Defense.
And the Bears.... select... WR Kevin White from West Virginia.... and the Crowd goes wild.
Here's what I know about Kevin White:
1. He's super fast.
2. He wow-ed at the workouts.
That's about it. Makes some sense for the Bears give Jay Cutler another deep threat.
(Insert Joke about overthrowing/underthowing WR's and throwing to the wrong team here)
Right on cue:
And the Bears selected another receiver to overthrow....

— The Irrational Fan (@Irrational_Fan) May 1, 2015
The Atlanta Falcons are on the clock.
-I have no idea who the Falcons will take with the 8th pick...and you know something... I really don't care.
(Aren't you proud of me for not mentioning my favorite team, and who the San Diego Chargers will draft? I haven't mentioned it yet.)
(Darn)
I predict the Falcons will draft someone with 2 arms, 2 legs, a torso, and NOT a Quarterback.
The Falcons select: Vic Beasley OLB/DE from Clemson
(The Commissioner said Defensive End... the espn graphic says OLB).
The Beasley pick is not getting much love from Gruden/Kiper and crew. They do say he can rush the passer, but that he struggles against the run.
The NYG are on the clock...and I've heard they are interested in offensive line.
(and a new quarterback... just kidding)
Replace Me?
I can't emphasize how much I like the addition of Louis Riddick and the subtraction of Tom Jackson from the espn crew. TJ is probably sitting at home with his Bronco Pom Pons, and copy of "Horseface" magazine, signed by John Elway.
The Giants select an Offensive Tackle, Erek Flowers from Miami.
Sounds good to me.
The Rams are on the clock.
-Not sure who they will take. I don't really know any of their skill players. Maybe a RB? Maybe a WR? No idea whatsoever.
With the 10th pick, the St. Louis Rams select... RB Todd Gurley from Georgia!
Todd Gurley is a great football player.
I saw him play alot in college, and to be honest... he's the best RB I've seen come out of college since Adrian Peterson.
The Injury concern in the only question with Gurley. Tore his ACL last year. But that kid can run the ball.
The Vikings are on the clock.
And they select Trae Waynes the CB from Michigan State. He's another guy who is really fast.
-pretty good pick. (I think, but what the heck do I know)
The Cleveland Browns, with the 12th pick, select DT Danny Shelton from Washington.
(He's Chris Berman's favorite player in the draft...take that for whatever it's worth)
He's a large, powerful man. (6'2" and 340 lbs)
He also gets props for lifting the Commish off his feet when he came to the stage.
The Saints are up, and their pick is in.. wonder who it could be?
(I honestly have no ideas of the Saints wants and needs)
-Maybe a TE to replace Jimmy Graham? I've got to think that they are thinking Defense, Defense, Defense.
(Quick Aside: How does Rob Ryan keep getting DC jobs? He's not good. Everywhere he goes...he comes in a savior...and then he's gone or fired in 2 seasons or so. Browns? Terrible. Cowboys? Terrible. Raiders? Terrible. Saints? Terrible. I want Rob Ryan's Agent!)
I'm just not a good coach, guys.
The Saints decide to go with an offensive tackle... Andrus Peat from Stanford.
Gruden loves the pick, because "
Drew Brees needs time to throw, man
".
Riddick isn't as big of a fan, and went so far as to call him "an enigma".
I don't know Andrus Peat from Austin Peay, but I know I don't want analysts calling my first round pick "an enigma".
The Dolphins are on the Clock with the 14th selection:Twitter seems to think they are looking at a WR. I think they are looking for someone who looks good in uniform.
And the Dolphins.... select... DeVante Parker WR from Louisville
He does look good in uniform!
First Trade of the DRAFT!
-My Chargers just move up 2 spots to the 15th pick from 17...and will give up a 4th round pick this year, and a 5th round pick next year. (That's a steep price for 2 spots!)
This trade has to be for Melvin Gordon, the RB from Wisconsin... the pick is in.
And the pick is...
Melvin Gordon, RB Wisconsin
He fast!
Here's what I like about Melvin Gordon:
1. He is fast
2. He is good at letting his blocks set up
3. He is excellent at one cut and go...
4. Wisconsin couldn't throw the ball last year, and he still ran at will in the Big 10.
I like this pick... I like it alot. He's going to look perfect in Lightning Bolts.
-and, he's actually one of about 5 guys I knew going into this draft!
Not everyone is onboard:
.

@Chargers

You just drafted a guy with two first names.

— SportsPickle (@sportspickle) May 1, 2015
Melvin Gordon is being interviewed by Suzy Kolber. Hope he doesn't
try to kiss her
.
The Texans are on the clock. (and in Texas) (they are even in Dallas)
And the Texans take a CB from Wake Forest. They needed one. Kevin Johnson is his name, and he's
NOTTHAT KEVIN JOHNSON
-He's Riddick's favorite corner in the draft. That is what I know about him.
The 49ers are on the clock, after trading back with the Chargers.
-no clue as to what they do. Boy have the wheels come off the wagon any faster than they did in San Francisco this past year? A year ago... Super Bowl contenders, just missed winning the SB, great coach, unstoppable QB, impressive running game, phenomenal defense.
-One Year later... Coach is gone. Multiple players are gone. The QB did not look nearly as good last season. I mean... yikes. That's rough.
The 49ers Take Arik Armstead the DT from Oregon with the 17th selection.
-Here's what I know about Armstead... He's very tall for a DT. 6'7" if I remember right.
although picture is small, I am 6'7"
The Chiefs are up and their pick is in.
Personally, as a Chargers fan, I hope the Chiefs select the 3rd string defensive tackle from
Dakota Wesleyan University
Most people thought the Chiefs would go with a WR, because NONE of their WR scored a touchdown this past season. However, they went with CB Marcus Peters from Washington. He's a player who was actually suspended by his own team last year, for arguing with his coach.
Andy Reid won't have a problem with him. As long as he doesn't take Andy's Potato Chips. If you take his Potato Chips...you will get in an arguement and get suspended.
I must say, I don't like the Chiefs taking talented players, but this guy, I could be down with.
Wow...Marcus Peters can play...one of best players in draft...but his list of transgressions is Old Testament length ....

— trey wingo (@wingoz) May 1, 2015
The Browns second pick of the first round, #19, is in.
Cameron Erving, Center, Florida State. OK. I don't know much about him, or what the Browns need. But Kiper really likes him. "Great Upper Body Strinth".
The Eagles are on the clock with the 20th pick.
(Pick Mariota anyway, Chip! That would be Glorious!)
-
This Just In
- Tom Jackson is getting excited about the Broncos Pick
The Eagles Select WR Nelson Agholor from USC. (That is a tough last name to spell!)
Not surprised... there were supposed to be alot of good WR's in this round, and he's what the 4th?
The Bengals are on the clock. What criminal, err.... position are they looking to upgrade?
This is the 21st pick. Only 11 to go after this one.
The Pick is in...and it's going to be, OT Cedric Ogbuehi, from Texas A & M.
- I know nothing about this young man. I'm sure he'll be a fine player in prison stripes... I mean Bengal stripes.
Also worth noting, Commish Goodell said Ogbuehi's name right, and Mariota's name wrong. That's just plain racist.
The Steelers are on the clock. I read on twitter they were looking at CB's. Gruden thinks they need a pass rusher. I think they need someone who can survive the winter in Pittsburgh.
22nd pick, the Steelers select Bud Dupree, LB from Kentucky.
-There's your pass rusher, Gruden.
Bud DuPree's real first name is Alvin. His Godmother had a dream before he was born he was named Bud and running around playing football...

— trey wingo (@wingoz) May 1, 2015
The 23rd pick has been traded from the Lions to the Broncos.
This Just In
- Tom Jackson is really excited about this pick!
The Denver Broncos will select DE Shane Ray from Missouri.
-Cue all the Marijuana/Colorado jokes!
Denver selects ALL THE MARIJUANA JOKES.

— SportsPickle (@sportspickle) May 1, 2015
marjuana is legal Denver lets not forget that

— PFTCommenter (@PFTCommenter) May 1, 2015
Denver drafts a guy that was just arrested with marijuana possession. Good fit.

— Faux John Madden (@FauxJohnMadden) May 1, 2015
— Michelle Beadle (@MichelleDBeadle) May 1, 2015
— Bonnie Bernstein (@BonnieBernstein) May 1, 2015
That's not all of them.
The Cardinals pick at #24 is in.
This Just In:
Tom Jackson thinks Shane Ray will win Rookie of the Year.
9 Picks from the end,
Cardinals select DJ Humpries DT Florida
-Kiper thinks he's gamble. Not sure I want a gamble with my first roiund pick. But then again, a few years back, my favorite team drafted Larry English in the first round, and I talked myself into THAT being a good pick. So I'm sure the Cardinal fans are happy.
The Carolina Panthers are on the clock... and since I haven't posted a photo in a while...
I own the Panthers, and you don't!
With the 25th pick in the 2015 NFL draft, the Carolina Panthers select: Shaq Thompson, OLB, Washington.
-Here's my thought... I think Washington has as many picks as any other school...how are they not DOMINATING the Pac 12? Oregon has had 2. USC has had 2.
The Ravens have the 26th Pick, and as always when it comes to the Ravens...
Where is the White Suit Ray?
While we're waiting for the Ravens pick, let's look at another gif of Melvin Gordon.
Ravens select WR Breshad Perriman from UCF.
-Super Fast
-Super Athletic
-Drops the ball. Like alot.
The Cowboys are on the clockareeno, and I'm getting so tired I'm resorting to lame things like saying "clockareeno".
I think the Cowboys could go RB...because D'Marco Murray left town. But the top two (Gurley and Gordon) are gone. Maybe there's a good DT or something? Not sure what Jerrah wants.
And it's Byron Jones, CB from Connecticut. I know nothing about him, but he looks impressive on the highlights package. (But they all do, you say!)
The Lions are up, and the pick is in. I think they pick... they pick... they pick...someone who played college football in the United States of America.
And I was right! Laken Tomlinson, Guard, Duke.
I'm not sure about this pick... he's a Guard from Duke, and I never even saw him on the court during the Final Four. Kind of a wasted pick if you ask me.
The Colts have the 29th pick, and I've gotta think they are thinking defense.
-But what do I know?
Colts are on the board. Andrew Luck could really use a stylist. Let's see if they go that route.

— SportsPickle (@sportspickle) May 1, 2015
The Colts select Phillip Dorsett, the WR from the U of Miami.
-He's a speedy little guy.
The Packers are on the clock.
They select Damarious Randall, Safety from Arizona State.
-So the Packers have selected 1st round Safeties in back to back years...Ha Ha Clinton Dix last year, and Randall this year.
The Saints are on the clock. with the 31st pick.
This Just In:
Tom Jackson has picked the Denver Broncos as the favorites to win the AFC and the Super Bowl.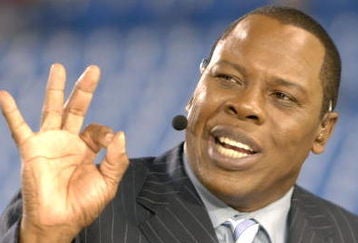 Hurry up Saints, it's past my bedtime already.
Stephone Anthony ILB Clemson is the selection.
I have no idea who this is. Although earlier I said they need to look at their defense.
(Gruden just said the biggest problem last year was "communication on defense". Who was the Defensive Coordinator of that unit?)
The New England Patriots are on the clock. I think the Patriots may select a new ball inflating guy. Or a new videotaping guy. Or a guy who makes their coaching headsets not work.(look it up)
Malcom Brown DT from Texas in the pick. Makes sense. The Patriots lost their starting DT Vince Wolfork to the Houston Texans in Free Agency. So they get a new starting DT from Texas.
Tomorrow night will be rounds 2 and 3, and I will be attending a track meet. So no live blog.
Also Saturday are rounds 4-7, and I'll be track meeting it then too.
Hope you enjoyed my silly live blog.