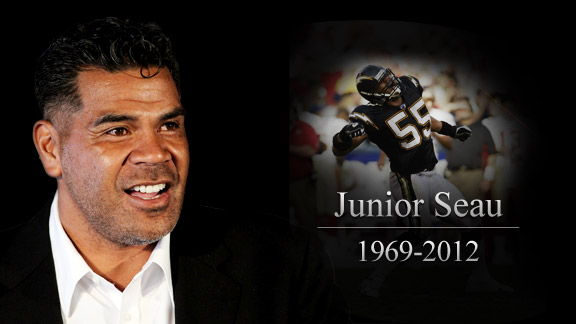 I didn't want to write this post.
Over the past few weeks, every time I sat down to write something I realized that I needed to cover Seau's passing, before I discussed anything else.
It's hard for me to do this. As a fan, what words can I use to describe this man, what was it about him that set him apart from so many others? I never met the man, didn't know him personally, and had no relationship with him other than through my television screen.
In 1999 I was invited to go to the Metrodome to see the Chargers play the Minnesota Vikings. My brother Rich, and few close friends had tickets to the game and had one seat left to fill, knowing what a Chargers fan I was, I was invited to go. The Vikings had a very good team that year, this was the season following their 15-1 campaign in 1998, and the Charger's weren't very good, coming off a 5-11 season in which Head Coach Kevin Gilbride had been removed during the season, and interim coach June Jones chose to go coach college ball in Hawaii.
So that brought in NFL Head Coaching newcomer Mike Riley and the Chargers ended up 8-8 that season. However, that day in Minnesota... the Chargers were severely out manned, and they lost that day, 35-27. I remember leaving the Metrodome just in awe of how good Seau was. He was everywhere... they'd run a sweep to Robert Smith Seau would make the tackle, they'd throw a pass to Randy Moss... Seau would be there. He was literally in on nearly every defensive play. If he didn't make the tackle... he'd be the next guy there. He was infectious, and to be honest... I didn't even realize Jeff George played QB for the Vikings that day until I looked
the game
up. When the Vikings had the ball, I was mesmerized, and my eyes were glued on #55 for the Chargers.
Part of the reason that I've struggled to write this is I didn't know what to focus on.
Was it the way he played?
Passionate, Relentless, Intense
. Yeah, that was part of it. The guy just played so hard, and with such joy. I'm the type of guy who never likes it when a defensive player does a "celebration" before a 3rd down play... the offense still has a chance. However, I couldn't help but grin whenever Jr. would do his trademark "
leg kick and fist pump
" after a big play. He couldn't help himself.
Was it because he was a good teammate? Hearing the stories of guys like Teddy Bruschi (who he only played with for 3 years) rave about what a good locker room guy he was. Reading
this story
and hearing about how he took fellow South Dakota State Alum Doug Miller under his wing, just reinforced things I had heard for years about him.
Was it because of his leadership capabilities, how he was respected in and outside of the locker room? Certainly. I remember very clearly sitting in Fort Smith Arkansas in July of 1992 and reading a pro football preview magazine (before the Internet days) and reading about how Jr. had assumed a leadership role on the team (even though he was only finishing his second year), and that they were predicting great things for that same team.
Was it because of his humble beginnings? I suppose so. He was the son of Samoan immigrants, and he never forgot his background. He treated everyone with respect (or so I've read). How he was gracious and humble to all people. This is someone who not only lived the American dream, but he also remembered what it took to get there.
Was it because of his insatiable work ethic? ESPN gave a ton of play to Teddy Bruschi's story about when he joined the Patriots, and the training staff was having a fit because Jr. was showing up to work out in the morning at 4 am? Keep in mind... this was someone in his 17th year in the league... a sure fire hall of famer. This wasn't someone trying to avoid being cut, this was a legend... and he couldn't stand the thought of anyone else outworking him.
It was all these things, and more. How he was a great person
outside of the game of football
, winning the NFL's Man of the Year award in 1994? How he welcomed the poor and disadvantaged into his restaurant in San Diego each Thanksgiving?
He was a 12 (straight) time pro bowler, and 8 time All NFL player at linebacker.
He was the AFC Player of the Year in 1994. (the year the Chargers made the Super Bowl).
He was the first NFL player whose jersey I bought. I still have it. I even wore it during the Giants/Patriots Super Bowl when that Patriots team was chasing the perfect season. Keep in mind... I hated that Patriots team, I wanted them to lose, I was cheering wholeheartedly for the Giants (and the fact that those Patriots had just defeated the Chargers in the AFC Championship game). Yet, even though I was cheering against his "current" team, even though I wanted the Patriots to lose... I wore Seau's jersey. Out of respect for what he had meant to me.
I'm not going to go into his death. What the circumstances were, or whether he had concussions, or suffered from depression, or what. The truth is we don't know. No one knows.
So, I'm going to choose to celebrate the man for what he was, and let it be.
Rest In Peace, Junior.