I was looking over my last several posts, and noticed I've been spending much more time on pop culture than on sports. This is unforgivable from the self proclaimed "Sports Doofus". A title I worked long and hard for.
How can I have a sports blog and not talk sports? Well, pretty easily actually. I'm not very fired up about anything right now.
So, some topics of interest in the sports world right now... and my thoughts on them.
Jeremy Lin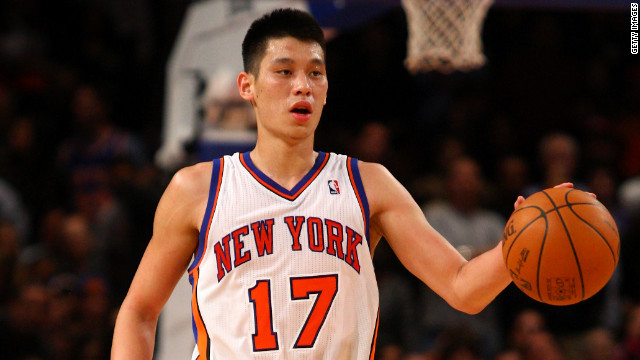 I'll admit I don't know most of this story.. but I have the gist of it. Here's what I think.
1. Good for him.
2. If people don't shut up about him soon, I'm going to start to dislike him, because I hate bandwagoners. (
Do you hear me teenagers in Celtics jerseys
?)
3. Do NOT compare Jeremy Lin to
Tim Tebow
under any circumstances. Here's why:
Jeremy Lin went to college at Harvard, a school without athletic scholarships, and is the first NBA player from there in about eleventy years. (these numbers are approximate)
Tim Tebow went to college at Florida, who won two national Championships while he was there (one before he played), and the Heisman trophy.
Jeremy Lin went undrafted out of college.
Tim Tebow was a first round draft pick of the Denver Broncos.
The Knicks colors are orange and blue...
The Broncos colors are.. ok, you got me.
Oh yeah, I forgot the main difference... Lin shows some talent at his position... Tebow gets cheered for like a disabled kid when he completes a pass. (See, he can throw!
he completed a pass
!)
Here's how Lin would be like Tebow, he starts, passes the ball worse than any other point guard in the league ( low completion %), leads the league in air balls (poorly thrown balls) and turnovers (poor decision making), runs around the court yelling "na-na boo-boo, can't catch me" and throws in a game winning shot over his left shoulder while falling down and praying, but only after it bounces off the rim, and touches not one, but two defenders hands before being knocked back into the hoop.
The Big East Conference
This is a segment perfect for Saturday Night Live's Weekend update Really? bit
Really,
Big East Conference
?
I mean, I know your are losing members like Pittsburgh and Syracuse to the ACC, but really?
Memphis
? Memphis? Don't get me wrong, Memphis is a great town and a decent enough school, but Memphis? Memphis isn't in the Eastern Half of Tennessee, BIG EAST Conference.
And Really, Big East Conference... 2 Texas schools? Really? Adding SMU and Houston to the Big East is like.... I can't think of anything.... it's not like anything! They are SMU and Houston!
As new "
Football Only
" Members - Navy, Boise State, and San Diego State. Really?
Because the first thing I think of when I picture
San Diego, California
, all I can think is Big East Football.
Boise State? Really? Boise State? Did you try and eat the
blue turf
or something? Boise State, in IDAHO, is in the Big East.
How about changing the name of your conference form the Big East, to what it really is, the Big Mess. I mean, really.
That's about all I got for now. Tune in to espnU on Saturday to watch my beloved
South Dakota State Jackrabbits
take on Buffalo in the
espn bracketbusters
series.