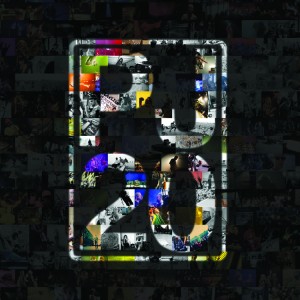 I don't typically watch many documentaries. It's not that there aren't good ones out there, surprisingly there are actually some pretty darn interesting films out there (I used to watch more when I had Netflix). This past fall
Cameron Crowe
released
PJ20
, which is a documentary chronicling the first 20 years of the life of the band
Pearl Jam
.
In all honesty, I must admit that I'm a pretty big Pearl Jam fan. They came along in the early 90's, right as I was reaching young adulthood. Something about their music spoke to me, and many people my age. I certainly don't claim to be the biggest fan of theirs, but they're one of my favorites. And I suppose they will always be a band that I'll remember fondly.
So anyway, I was pretty excited to see this film. And now, after watching it about 3-4 times, I thought I should really blog about it. But I'm not looking to be a "movie reviewer". And I really had no idea how to go about it? I've never claimed to be a writer, just a doofus with a keyboard and some thoughts. So after much internal debate, I decided to break the film down by characters.
Cameron Crowe: The director. He introduces us to the band, and discusses the early music scene in Seattle. Really, no one else should have directed this film. Cameron has lived in Seattle for a number of years, and he had actually cast members of the band in his film "
Singles
". He is the perfect guy to show their story.
Stone Gossard
: Guitarist
Most people tend to gravitate to the lead singer as their favorite member of the band, and I get that, they are up front, usually write the lyrics, they get the spotlight. So naturally most people seem to be drawn to singer Eddie Vedder. But for me, Stone is "the man" when it comes to Pearl Jam. Stone actually seems to take the lead in the documentary too, driving CC around town, showing him certain places from Pearl Jam history, and leading him through his house in search of Pearl Jam memorabilia. The highlight: Finding a Grammy sitting in the corner of the basement. Really enjoyed all the interviews with Stone. He was so honest, and just a likable guy.
Jeff Ament
: Bass
Along with Stone, Jeff Ament is the "other" founder of Pearl Jam. Stone and Jeff had been in the band Green River first, and then Mother Love Bone, before Pearl Jam. They are tied together. Jeff is a really interesting dude, he grew up in small town Nebraska according to the film (although his Wikipedia page says Big Sandy, Montana) with dreams of moving to a big city and joining a rock band. Jeff is also very likable and you can see first of all, why he and Stone got along so well, but also with guys like that as the "founder" of the band, how they have been able to last.
One Big Question Never Answered:
What was with the hats?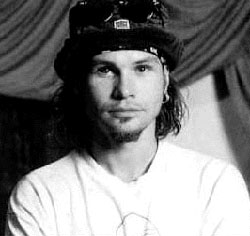 Jeff Ament loved wearing weird hats, and that is not explained in the film.
Andy Wood
: Lead Singer,
Mother Love Bone
The film actually gives quite a bit of back story involving Stone and Jeff and Mother Love Bone, who were "supposed" to be the next big band from Seattle. Andy Wood was the talented and troubled lead singer of that band. There's some rare footage in the film of early Mother Love Bone performances, and you could see that Andy had "it". Whatever "it" is. Andy died from a heroin overdose, and the dreams of Mother Love Bone died with him. Probably the saddest point in the film is when Jeff talks about Andy and saying he always wished he had a picture of Andy all hooked up to machines keeping him alive, so he could show it to people who using drugs.
Chris Cornell
: Lead Singer,
Soundgarden
, and
Audioslave
Yes, Chris Cornell was the lead singer in a "rival band" Soundgarden. That's the funny thing though, those Seattle bands all seemed to like hanging with each other. A couple quick notes on Chris:
1. He and Andy Wood were roommates, and they used to "push each other" to become better songwriters.
(funny side note, he originally asked Stone if he wanted to live with him because he was living at home with his parents... Stone was like... no thanks, I'm good)
2. He wrote the
Temple of the Dog
album as a tribute to his friend, Andy and played it with the former members of Andy's band... and also asked new singer Eddie Vedder to sing on a couple of tracks.
3. It was mentioned in the film that when he first arrived in Seattle, Eddie was very quiet and shy and didn't quite fit in. The Pearl Jam guys mentioned that Chris really went out of his way to be good with Eddie and really "opened him up".
Mike McCready
: Guitarist
Mike had actually gone to junior high with Stone Gossard, and after Mother Love Bone fell apart, Stone had contacted Mike about playing together. In fact, it was Mike who told Stone he had to get Jeff Ament in the band "that's your guy!". So it was Stone, Jeff, and Mike who played with Chris Cornell on the Temple of the Dog album, and they were the players in place when Eddie Vedder eventually made his way north from San Diego. Mike is known in the band as a phenomenal guitarist.
Eddie Vedder
: Vocalist
As I mentioned earlier, when Eddie first joined the band, he wasn't the "Tour De Force" the world now knows. He was a shy, and quiet kid. There is some great early footage of a young Eddie introducing himself to the camera. Much of the remaining story of the film is how Eddie went from the "shy, quiet, kid" to the "leader of the band". Also much attention was paid to his
infamous crowd dives
that he would make. With the addition of Eddie, Pearl Jam was complete.
Neil Young
: Rock Legend
Neil makes an appearance in the film too. And not just because he recorded the album "
Mirror Ball
" with the band. Turns out, the band really needed Neil at that time. They were questioning themselves, whether they could stay together as a band, whether they could survive while Eddie was becoming the star. Neil taught them how to deal with success. Neil is the guy who told them, "come on band, you can keep up with Eddie!". I knew that the band and Neil had collaborated, and that they had an affection for each other, but I honestly had no idea what a huge role he played in the band right when it was at it's breaking point.
A cast of characters: Drums
Dave Krusen, Matt Chamberlain, Dave Abbruzzese, Jack Irons, and then Matt Cameron.
-they even show the
spoof of spinal tap listing all their drummers
.
And that's all I got.
So, if you like Pearl Jam, or you like rock music in general... or if you have teenage children like me and want them to learn some "real" rock and roll... I highly recommend this film.
If you are not a Pearl Jam fan, go ahead and save yourself a few hours. The movie wasn't intended for you. It wasn't made to convert people into fans. It was made as a celebration of 20 years of music by the same band.
Rock on Fellas!