At Long Last, the self proclaimed Sports Doofus reveals his All Time NBA First Team!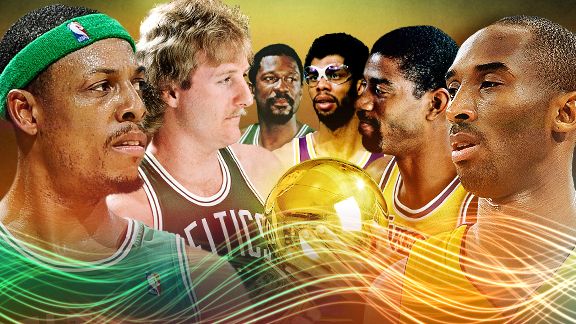 Who made the All Time 1st Team for the Sports Doofus?
To see how we got to this point, click the links for:
All Time NBA:
3rd Team
All Time NBA:
2nd Team
Along the way, there have been a few surprises (Wilt Chamberlain 3rd team?... Larry Bird 2nd Team?), and some very difficult decisions have had to be made.
Just to reiterate, I am simply using my own opinion for these selections. No hard and fast data that would raise one player above another. Yes, I will use stats and awards and championships as my primary measuring stick, but when you get to this level, the best of the best of all time, you really just come down to personal preference, and I'm admitting that freely from the start.
Just a quick aside, what an NBA Finals we are
currently enjoying
right now. As of this writing, the Spurs lead the Heat 3 games to 2, with the series heading back to Miami for game 6 on Tuesday. It seems like this series is destined to go 7 games. No one has won back to back games so far, and the Spurs would have to do so to prevent a game 7. Can LeBron and company regroup to win their 2nd straight title, or will Danny Green continue his phenomenal shooting to clinch another title for the Spurs? It's going to be very enjoyable to watch.
And back to the subject at hand...
The All Time NBA First Team!
In four short years, Magic Johnson won a championship in High School, College, and the NBA (winning the Most Valuable Player in the NBA Finals as a 20 year old rookie). How ridiculous is that?
Well, Michael Jordan didn't win his first Championship until his 7th year in the league, LeBron James didn't win his until his 9th season, Larry Bird did win his in his 2nd season...but Larry was a 5 year college player, whereas Magic only played 2 years of college basketball. He was MUCH younger than Larry.
In fact, being a winner is really what separates Magic from most of the other all time greats. It's not so much the number NBA Championships that he won (which is nothing to sneeze at, with 5). In his first year in the league, the Lakers won the Championship. In his last full season in the league (1990-1991) the Lakers lost in the NBA finals to the Bulls (the start of the "Jordan Dynasty").
Magic was the NBA MVP 3 times, the NBA Finals MVP 3 times, and the All Star Game MVP twice (including the year when he was first diagnosed with HIV, and didn't actually play during that season, he was controversially voted in and played, and won the MVP). In his 11 full seasons, Magic was named first team All NBA 9 teams (2nd team once), and was only left off his rookie season, in which he led the team to the Championship and won the Finals MVP.
The greatest thing about Magic wasn't his numbers, although they weren't terrible: 19.5 points per game, 11 assists per game, 7 rebounds per game. Known for his passing, he only led the league in assists 3 times, and the highest he ever managed in scoring was 9th in the League (1987). It was how he was able to raise the level of play of his teammates.
Magic made relatively unknown players into great players. In his first team with the Lakers it was Norm Nixon and Jamaal Wilkes...with his later teams it was AC Green and Byron Scott. It really didn't seem to matter who you put Magic on the floor with, simply by playing with Magic their level of play was elevated.
Former teammate Kurt Rambis described it like this, "Magic is just this magnet... pulling everyone in, and if you get out and run, you are going to get to score". And it wasn't just his play making ability, it was his personality and leadership. Magic simply made everyone around him better, and made his teammates enjoy playing the game.
I think former Laker James Worthy described it best like this, "I don't think we'll ever see another 6'9" point guard, who smiles....while he humiliates you."
Michael "Air" Jordan is arguably the greatest basketball player of all time. In fact he was once described by Larry Bird as "I think he's God, disguised as Michael Jordan".
There are very few quantifiable measures in which you look at Michael's career, and can not make the argument that he is the greatest. He won 6 NBA Championships, 6 NBA Finals MVP's, 5 League MVP Awards (and it should have been more...honestly, they started picking other players I think because they were bored), 3 Time All Star Game MVP, Defensive Player of the Year in 1988, Rookie of the Year in 1985, was named "First Team" all NBA 10 times (and 2nd team once...wonder who was picked ahead of him?), and "First Team" All Defensive Team 9 times. Not many guys who lead the league in scoring are named to first team all defense.
The statistics are basically unmatched: 30.1 points per game (which is first all time), 6 rebounds, 5 assists, and 2 steals a game. And he raised his level of performance when the games counted... his playoff averages: 33.4 points, 6.4 rebounds, 5.7 assists. He played better on the biggest stage.
Here is how dominant Jordan was, he won 3 straight NBA championships and then decided to "retire" and try baseball for a year. After that didn't work out, when he re-entered the NBA and played a full season, the Bulls won 3 more straight Championships. If you think about it, they possibly could have won 8 straight titles, I mean that isn't out of the question...it's more likely than not.
(How difficult is this? Well, LeBron has made 3 straight finals with the Heat...imagine him "retiring" now, and missing 2 seasons, when he came back would his his team be the "favorite" to win the title? Let alone win 3 in a row?)
Personally, I like to think that the way to compare "greatness" is the company you keep when you are discussed. Every time a new player comes along with great abilities (Kobe, LeBron) who are they compared to? Well, they are compared to Michael Jordan. That's really all you need to know.
As I wrote when discussing Larry Bird, up until this current season, I would have had Larry here. However, the accomplishments of LeBron over the past season have pushed him past Larry Legend in my opinion.
LeBron James was drafted out of high school by the Cleveland Cavaliers in 2003. In his 10 seasons in the League he has averaged: 27.6 points per game, 7.3 rebounds per game, and 6.9 assists per game. So he is certainly what you would call a "stat sheet stuffer". He does everything.
The biggest criticism of LeBron has been that he wasn't a "winner". Last season he won the NBA Championship and got that "monkey" off his back. However, I'm not sure if this is a fair criticism. In 10 years in the League he has led his team to the NBA Finals 4 times, and it's possible that his team could win back to back Championships this season (although his Heat trail the Spurs 3-2 currently).
In his short time (remember he's only 28 at this writing) in the league, he's won 4 Most Valuable Player Awards (only Michael Jordan, Bill Russel, Kareem Abdul Jabbar, and Wilt Chamberlain have accomplished this), 2 All Star Game MVP's, 1 NBA Finals MVP, and was the 2004 Rookie of the year. He's been named First Team NBA 7 times (2nd team twice), and 5 times name First Team Defense.
Although he has more than his fair share of "Haters" stemming from "
The Decision
" to leave Cleveland and "take his talents to South Beach", LeBron is simply a combination of size, skill, and talent that is amazing to watch.
There probably hasn't been a man of his size who can run the floor and pass like LeBron since Magic Johnson. There are few players in the history of the league who can just take it to the hoop and score on literally anyone as well as LeBron. And I don't believe the league has ever seen a man who is such a versatile defender. LeBron can guard every position on the floor. From the opposing team's post player, to their point guard...and not only guard them, but shut them down, and take them out of the game.
As far as his physical talents go, there are no limits to what LeBron can do. He belongs to the "Freak of Nature" team with Wilt Chamberlain. There is just no one like him, not just currently, but there has NEVER been anyone like him. He's a tremendous talent, and I really wish that many fans would stop with the hating, and start appreciating how good he actually is.
In his 16 years in the League, "
Timmah
" has been the definition of 2 things: consistency and winning.
In his rookie season in the League (97-98) Duncan averaged 21 points and 12 rebounds per game. In his 16th season... 18 points and 10 rebounds. And he plays less minutes now.... in fact if you looked at his "36 minutes average" he actually has BETTER stats now than when he was a rookie!
He won his first Championship in his second year in the League (1999), along the way won 3 more (2003, 2005, and 2007), and here he is in the finals for a 5th time in 16 years. At this moment with the Spurs leading 3 games to 2, it looks very possible that he could win another and go 5-0 in NBA championship series.
You want some accolades? Well, how about these: Duncan is a 2 time MVP, 3 time NBA Finals MVP, All Star Game MVP (2000), and Rookie of the year (1998). In that time he has been named to 10 All NBA First Teams (and 3 second teams, and a 3rd team thrown in), and made All NBA Defense either 1st or 2nd team in 14 of his 16 seasons.
If consistency is the mark of excellence, then Duncan certainly qualifies. He has been a top 10 rebounder in the League in 14 of 16 seasons. Top 10 in Blocked Shots in 13 seasons, he's just a model of efficiency.
The least "flashy" of any of my selections, there was a reason Shaquille O'Neal once called Duncan "The Big Fundamental". He just does everything right. He makes the correct post move, whether that be a power dunk, a fall away bank shot... makes the correct pass to the open man. Always hustling and running the floor, it was just unreal to watch him play the Grizzlies this post season and consistently beat the younger Marc Gasol and Zach Randolph down the floor for easy baskets.
Another thing sometimes forgotten about Duncan, is his ability to hit a perimeter jump shot. People think "big guy" and "Big Fundamental" and imagine the class "back to the basket" post up game. Well, he can do that, but he is very efficient at catching the ball in the 18 foot area on a "pick and pop" play, and knocking down that jumpshot.
Duncan doesn't really care about statistics, he's only cracked the top 10 in scoring 4 times in his career. But his team is always competitive, and despite the changes around him in San Antonio...multiple players have come and gone, his team continues to be one of the best teams in the League.
Anchoring the team in the Post, the greatest winner in the history of the game, Celtic legend Bill Russell.
You want to win games? Well, you can't do better than "Russ". In 13 seasons, he won 11 Championships. He also won the NCAA Championship in his final season at San Francisco in 1955... so he won 12 Titles in 14 years. Not bad.
The definition of a "team first" player, Russell only averaged 15 points per game throughout his career (peaking with 18 ppg in 1960). However, he averaged 22.5 rebounds per game throughout his career (leading the league in rebounds 4 times). Blocked shots were not an official stat when Russell played, but he certainly would have been near the top in most seasons.
Known as the best defensive player of his generation (and perhaps any generation) Russell was the key to the Celtics dominance from the late 50's and throughout the 60's. Russell shut down the paint for anyone who tried to get high percentage shots, and was then usually able to corral the rebound and make a great outlet pass to get the Celtics fast break started.
Russell was a 5 time MVP of the League, and the all star game MVP once (They did not give a Finals MVP at the time, although he would have won a few of those to be sure). Russell played his career alongside Wilt Chamberlain, and those two are always compared against each other. While Chamberlain often had the advantage in numbers (points, sometimes rebounds, assists, etc...) Russell almost always had the advantage on the scoreboard.
You want a leader for your team? Russell was such a great leader that when Coach Red Auerbach retired, he named Russel to be a "Player-Coach". How did that work out? Well, the Celtics were able to win the Championship in 2 of the 3 seasons that Russell ran the team as "player-coach".
A true dominating force in the paint, with a lack of regard for personal statistics and the ability to play great defense and get the fast break started, Russell would be the perfect "centerpiece" to finish out our starting five.
So, how would this team fare on the court?
Russell and Duncan patrolling the paint, and absolutely owning the boards, outletting the ball to Magic Johnson running the fast break with Jordan and LeBron on the wings? Nearly unstoppable.
In the half court, they would be equally difficult to stop. Jordan and LeBron can score on anyone, Duncan can score on anyone in the post, Russell would not mind to simply set screens and rebound... you'd never have to run a play for him...he'd simply score on "2nd chance" points. Magic, with his size and passing ability, would be able to carve up a defense... getting Duncan the ball in his sweet spots, throwing alley oops to well... really everyone on this team.
And on the other end of the court, good luck scoring. You have possibly the 2 best perimeter defenders ever, with 2 of the greatest post defenders (and rebounders ever). Magic is really the only guy who wasn't a phenomenal defender, and with his size (6'9") you're going to have trouble shooting over him and getting around him.
Also, best of luck in the rebounding department! Between Russell and Duncan, there aren't going to many left to go around, however... our smallest starter is Jordan at 6'6", and both Magic and LeBron are well known for their ability and willingness to rebound the ball.
This team would win easily against any other team you could throw together. Championships, Leaders, Multifaceted players, Size, Athleticism, Will to win, Team First.... I just can't see them being beaten, by anyone... even the 2nd or 3rd team.
Thanks for reading! I hope you have enjoyed my All Time NBA teams! It's been a fun process!