This isn't really a live blog...not like I normally do.
I just watched the game on my DVR, with a pen and notebook, and jotted down some comments, some of which are snarky, along the way.
I'm a terrible Chargers homer, and most of my comments are based as such. I don't even pretend to be "journalistic". Just a doofus with a keyboard.
Dennis Leary does the intro welcoming us to Monday Night Football on Thursday night. Which I loved.
Wonder if Dennis ever thought he'd be doing stuff like this back when he was doing this for a living:
(warning: inappropriate language...and alot of it)
Chris "Boomer" Berman is announcing this game, with Trent Dilfer as the color guy. Boomer is sporting some sort of strange plaid suit jacket...although the plaid stripes are Charger Blue.
and the Camera goes to NEW San Diego Chargers Head Coach Mike
"Dammit Jim, I'm a Coach, not a Doctor!"
McCoy. He's looking sporty in a
Chargers Visor
. Graphic Says: 2nd youngest Head Coach in the NFL. I'm actually excited for the McCoy era, as a fan.
Next up, NEW Chicago Bears Head Coach Marc Trestman...Trestman looks kinda
like a computer nerd
(and yes, the irony of someone who works as a Technology Director calling someone a computer nerd is not lost on me....I'm just saying).
Soldier Field playing Metallica's "
For Whom the Bell Tolls
" before opening Kickoff. Nice Touch.
Devin Hester with a great return to the 37 yard line, and we are underway.
Jay Cutler has his "douche face" in Midseason form as he takes the field. Never really like Cutler, but I used to really despise the guy. Now that he's on the Bears, I really don't care so much. I think the thing that bugs me the most is just the way the guy looks.
Ladies and Gentlemen... it's Jay Cutler!
Cutler just has the look of the guy who got a brand new Trans Am from his parents when he passed his drivers exam. I have no qualms about his abilities as a quarterback, the guy can sling it, and he's played behind some terrible o-lines. Honestly, I don't even think his reputation would be so bad if he didn't look so.... douchey.
Jay Cutler doesn't care what you think.
He's just got one of those faces, ya know? Like one of the cool kids, who thinks it's fun to pick on the underprivileged.
Note: I'm not saying he is this way at all, I don't know the guy, or even know anyone who knows him, or ... you get the point. He just LOOKS that way. He's got a douche face. So tonight, I will call him that.
Douche Face drops back to pass and is sacked and fumbles. Bears recover.
Second pass, and the Douchemeister is sacked again...it's 4th and 24 for the Bears, and the Chargers D Line looks good, Corey Leguit is a beast-like person out there.
Chargers go no huddle right away.
Graphic Alert: Philip Rivers has the 7th most wins of active quarterbacks. That's a bit surprising.
The Bears hold at midfield, but the protection for Rivers was pretty good.
Douche Face retakes the field. And Matt Forte breaks a long, long, run down the lest sideline. Douche Face then throws a TD pass to Brandon Marshall and it's 7-0 Bears. (
Take that, dude who keeps calling me douche face!
)
That was an impressive long drive by the Bears.
And now, it's Rivers turn to get sacked. Rookie Right Tackle DJ Fluker was abused on that play.
GREAT story
on Fluker in the San Diego Union Tribune. Really rooting for him, very uplifting story.
Then Rivers is intercepted...on a play where the Chargers WR (Keenan Allen) is tripped and taken down by the Chicago defensive back...pretty obvious PI call there, in my opinion (and my opinion is biased).
-The Play is under review...the ball may have hit the ground. Oh it did. Replay confirms. The Ref in the booth with Boomer and Dilfer also says this will be overturned...and the play is upheld. Of Course. So it's a Pass Interference No Call followed by a non-interception that is ruled an interception... I see how it is.
Douchey McDoucherton takes the field and immediately throws and INT to Donald Butler. To be honest, I was expecting some sort of reveral on that, as no Charger touched intended WR Brandon Marshall, and Butler didnt' come close to touching the ground with the ball.
A classic sideline Douche Face on return from commercial.
Bolts come out in no huddle, and run the ball 4 straight times with Ryan Mathews...who is running hard, and wasn't injured on any of the 4 plays.
Max Starks gives up a sack and Rivers fumbles, the Bears recover. Of course they do...because if we sack their QB and he fumbles, they pick it up and advance the ball a few yards... however, if they sack our qb our Charger players are perfectly happy to let the other team jump on the ball. The Bears are just mean.
Forte scores and it's 14-0 to nothing and Cutler sends me a text that says "Who's the douche now?" (This MAY NOT have actually happened).
-and the Chargers defense looked BAD on that drive.
-and the O-Line looked bad on that last drive too.
Bears...after a bit of a rocky start, look pretty good.
Then, Richard Goodman muffs the kickoff, and spins around looking for it, he can't find it...and finally takes a knee about .374 or a second before a Bear takes his head off... you can't make this stuff up. Goodman better pick it up, he hasn't looked good this pre-season.
and the first Quarter mercifully ends.
-The Chargers start the 2nd quarter with some more no huddle, after the 1st down.
-When Rivers has time to throw, he's so good. Staying no huddle for now.
It takes a full quarter for Boomer to mention that both starting WR's for the Chargers are out. Donario Alexander tore his ACL, and Malcom Floyd hurt his knee this week..
-and then Jeromy Clary gives up a sack.... that's 3 different Offensive Linemen already.
Bill S. Preston, Esquire
would proclaim "Most Non-Triumphant".
A Manti Te'o sighting... on the sideline, in a book. Sprained foot. The Chargers seem to always be among the most injured teams in the NFL. It's something I pretty much count on. Year in and Year out.
Backups in for both teams at the skill positions now.
The Bears Special Teams look phenomenal.
-the Chargers, not so much.
First a terrible return, then catch a break on a penalty that forces a re-kick.
And then, Keenan Allen (Rookie WR who looks promising) fumbles the return...and of course, the Bears recover. Like I said before, the Bears are mean.
The Bolts get the ball back, and
Clipboard Jesus
(Charlie Whitehurst) has taken the field! Perhaps he shall lead us to salvation. Probably Not. But "Clipboard Jesus" has to be the greatest nickname in the history of the NFL... or at least top 3. It's up there with "Night Train" Lane, and "Slingin" Sammy Baugh.
"No...Guys... Seriously...Why do they call me Clipboard Jesus?"
And Jesus does not save on this occasion. Whitehurst fumbles his first snap after entering the game, and of course the Bears recover, because...you know the rule... the Bears are mean.
So, as a Chargers fan...we've had 4 Turnovers already and there's 5 mins to play in the first half.
To sum it up in one word, that one word would be "Atrocious".
-another FG by Robbie Gould and it's 20-0 Bears.
Douche Face and Computer Nerd are really kinda rubbing it in, don't ya think?
And the Savior is resurrected! Whithurst leads the Bolts down the field ( kind of impressively) and Fozzy Whitaker runs it in for a TD. 20-7 Bears. Clipboard Jesus not only led the Chargers down the field for a Touchdown on that drive... he didn't spike himself.
Now watch the Bears return this Kickoff for a TD.
-OK, he only got to the 24, and there's a penalty for being offsides, on the Chargers of course...so they take over on the 29. The Bears have owned Field Position in this game. Hell, they've owned pretty much everything. They take a knee, and it's halftime.
Yikes, that was depressing. Not even gonna lie, I know it's preseason, and the games don't matter, and teams don't gameplan (much), but that was depressing.
The 2nd Half is ready to go...a bunch of
FNG's
and people just trying to make the roster.
-Pre-season football...it's Fabulous!
Clipboard Jesus back out with the backup Offensive line who were terrible last week.
MLB Jon Bostic of the Bears
just DESTROYED Mike Willie
of the Chargers. Just crushed it.
-that hit was clean and brutal. Willies ears gotta be ringing after that one.
The Bears fumble a punt return, and the Chargers recover. That's just not something I'm accustomed to seeing. And the fun of backups playing continues... 2 fumbled punts by backup returners already, and we're just into the 3rd quarter folks.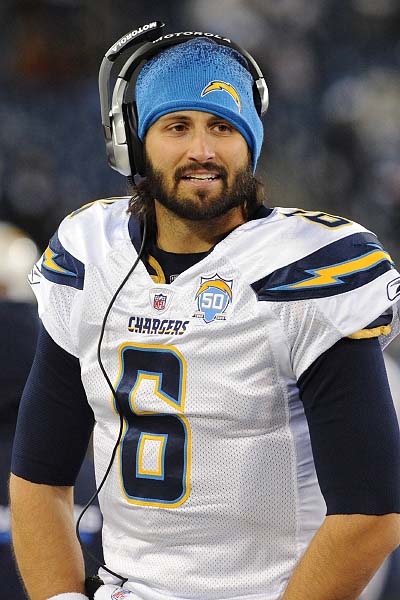 You know I'm not holding a clipboard in any of these pictures, right?
Clipboard Jesus finds salvation in the End Zone with a strike to LaDarius Green for a TD. Green had a TD last week too, and he's one Charger who has actually looked good this preseason (and in camp too, from reports).
And the Bears almost return the Kickoff for a Touchdown. I was one too early on my prediction...Nice hustle by someone on the Bolts to catch him, I'm too lazy to look it up. Michael Bush runs the ball in for the Bears, and it's 27 to 14.
-and the Chargers return their kickoff, comparatively, to the 13 yard line.
After a Charger punt, a random Boomer quote, "#1 punting to #11". OK. Thanks for that Boom.
2 straight plays with Bears penalties. Backup Football Rules! 4th and 32 for the Bears.
CBJ (Clipboard Jesus, I'm getting tired of typing that out...it's really not any shorter than Charlie Whitehurst), throws another Touchdown pass. He's playing much better tonight than last week, and it's 21-27.
-I hope next possession, Rookie QB Brad Sorensen gets in.
Another Kick Return for the Bears out past the 30 yard line. I am not joking. It's like the teams are playing 2 different games on Special Teams.
DJ Smith has looked pretty solid at ILB for the Bolts. Something to keep an eye on, especially with Te'o's injury.
You gotta love the Bears fans, it's 3rd quarter, in the pre-season...and they are cheering on their backups, doing the wave...Qualcomm Stadium in San Diego would be half empty by now. Soldier Field is Rocking.
And another Manti Te'o segment, because we haven't heard anything about this kid, and his personal life. And we certainly need a 2nd segment on a player not playing tonight because of precautionary measures.
And Sorensen takes the Field! Yes! I like this kid from Southern Utah. I watched him almost lead his Thunderbirds to a miraculous comeback against my SDSU Jackrabbits a few years back. He looked good last week.
And the Bears, block a punt. You can't make this stuff up. Don't forget our recurring theme tonight...The Bears are mean.
Man, the Bears hit hard! Both on Defense, and Special Teams. Just some big shots going on out there.
Sorensen and Ed "Rock" Baker lead the Chargers on a nice drive, and Sorensen throws a TD pass to Mike Willie and it's 28-30. I have to say, the Bolts Backups look much better tonight than last week, when Seattle just took it to them.
But the Special Teams have been atrocious, in about every conceivable way, both games this PS. Hold your breathe, there is a Kickoff coming.
The Bears win. Final score 33-28.