OK, technically as I am starting this we are an hour away.
It's draft day, baby!
I love the NFL Draft. I love the trades, the projections, the "experts", the whole thing.
Planning on flipping back and forth between espn and nflnetwork tonight, but I'll probably start with espn, because Chris Berman and I have built a relationship over the years. It just wouldn't seem like the draft, unless I kick it off with Boomer.
Word on the interwebs, is that Kansas City has decided that they will take Eric Fisher, the Offensive Tackle from Central Michigan. Of course, they are still saying that they are "shopping" the draft pick, and I guess that's just to be expected anymore.
Lots of intrigue in this year's draft... so many questions... who will be drafted in the top 10? I've honestly seen 6 to 8 guys listed as the #2 pick to Jacksonville. San Francisco has a bunch of picks (something like 13), and they don't have alot of needs, won't be surprised if they attempt to "trade up". Minnesota also has 2 first round picks, and they could be in play for moving up, if there's a player they really like.
I'll be focused on my Chargers of course. No one has any idea what they will do with the 11th pick. They desperately need an Offensive Tackle, but the top 3 guys are supposed to go early (maybe in the top 4-5 picks). Does this make the Chargers a possibility to "move up"? Possibly. But this is a team with a lot of needs, and it will be hard for them to give away extra picks to move up a few spots. Maybe one of the highly touted Guards will still be there at 11. Who knows?
Also of interest, Quarterback position. The last few years have seen a run on Quarterbacks being taken early. In 2012, 4 QB's (Andrew Luck, Robert Griffen, Ryan Tannehill, and Brandon Wheedon) were taken in the first round. 2011 also saw 4 QB's taken in the first round (Cam Newton, Jake Locker, Blaine Gabbert, and Christian Ponder).
This year's draft, has no real "super stud" at Quarterback. West Virginia's Geno Smith is regarded as the top guy, but not by much. Also in the running for a first round pick, are Matt Barkley, Ryan Nassib, and EJ Manuel. But where will they go? In the top 10 picks... 6 or 7 teams need a Quarterback, but none of the guys previously mentioned are thought of as top 10 picks.
That's what makes the draft so fun. OK, 50 minutes to go... Going to take a quick break.
Feel free to weigh in on twitter. We'll be using the hashtag #doofusdraft.
Text from Brother Rich: Bears are going to take Teo, I can feel it.
I can see that happening. And not a bad pick for the Bears, either. He's an interesting guy...one of the top defensive players in the NCAA all season, but then the whole "girlfriend hoax", and a poor performance in both the NCAA Championship and the Draft Combine, and some people are saying he could drop out of the first round. But I doubt it.
I just filled in Fisher on
NFL.com's "Pick the Pick"
game. Don't know if Jags will keep the pick or trade it, so I'm waiting on pick #2.
They're announcing the draft prospects, and having them walk onstage, and my youngest boy (who stayed home sick today), says "Oh my God, how many players does Alabama have?". Ha.
Early Prediction: The Chargers move up, either to 2 with Jacksonville or 4 with Philly, and go get their Offensive Tackle. (Of course, this only assures that they will NOT do either of those things)
Update: Youngest son just threw up. Made it in the bucket. I told him he could go to bed, and he says, "I want to watch the draft with you Dad." What a trooper.
And We Are Live! Whoo-hoo!
Comments from the Peanut Gallery:
Dano the Mano - Wouldn't you shit if a qb got picked first.
Stevo - "
hilight of the chargers year. All down hill after tonight lol.
#
patriots
How Long do the Chiefs let the clock run, until they select Fisher?
Commish Goodell gets some cheers, and some boos. And Joe Namath makes a fool of himself.
The Chiefs are on the clock.
Picture from the SD War Room - Tom Telesco (T2) and Mike McCoy (M2)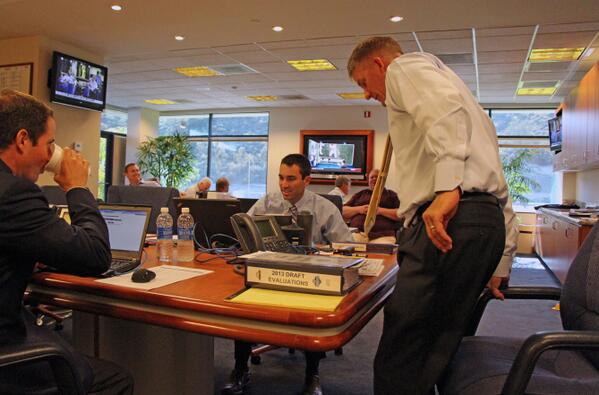 First Draft for these guys in charge in SD.
And the Chiefs select: Eric Fisher, OT, Central Michigan.
And the Jags are on the clock. What do they do? Joekel? Trade? We'll see...
From Timmah:
@
coacharming
Better chance of happening: Chargers getting a tackle in the top ten or youngest kid making it in the bucket again (trooper!)
Jacksonville's pick is in. Gotta be Joeckel. Gotta be Joeckel. and its...
Luke Joeckel ,
Offensive Tackle, Texas A & M
The Raiders on on the clock. No idea what they do here, but it'll probably be defense.
And the Raiders select: NO One! Trade with the Dolphins!
From Timmah:
@
coacharming
Did you see the ESPN graphic on players picked after theirs? Guaranteed all-star in #4!
#
doofusdraft
And the Dolphins select: OLB Dion Jordan, Oregon
Wow...that was a surprise! And Lane Johnson is still on the board.
And the Eagles are on the clock. And they select: Lane Johnson, OT, Oklahoma
And the top 3 Tackles are gone in the first four picks. The Chargers will either go Guard or Defense. (probably)
The Lions are on the clock. Who is the best WR in this year's draft? I kid, I kid.
5th pick: The Lions take: DE, Ziggy Ansah, BYU
6th Pick: The Browns are on the clock: What do they do? They need, pretty much everything but an Offensive Tackle and Running Back. The Browns select: Barkevious Mingo, OLB, LSU
-So they went Pass Rusher.
7th Pick is Arizona... and they could go a number of ways. I hope it's not a Guard.
I ask the 9 year old and the 10 year old, who the Cardinals are picking?
10 year old - I don't know any of the players
9 year old - Did the Packers really lose Greg Jennings to the Vikings? Who did they get to replace him?
The 7th Pick is in, and the Cardinals take: Jonathon Cooper, Guard, North Carolina.
And the Chargers may be screwed out of getting a lineman.
Bills are on the Clock, but Schefter is saying they will trade... let's see.
Trade is confirmed and the Rams are on the clock. WR? possible.
With the 8th pick in the NFL draft...the Rams take... Tavon Austin, WR, West Virginia.
Man, I'm good at this.
9th Pick is the NYJets... I think they might go with a pass rusher. or corner.
....and it's a Corner. Dee Milliner, CB, Alabama
10th pick is up...and Chance Warmack is still sitting there for the Bolts. Don't go and screw it up, Titans!
10th pick for Tennessee....my guess is... Maybe Star Lotulelei, DT? (I hope)
...Chance Warmack, OG, Alabama
11th Pick, and I have no idea who the chargers will take. Maybe a trade down? I don't know. I'm depressed.
The Chargers select DJ Fluker... OT, Alabama.
And, my day is officially ruined. 6th best offensive lineman, in a draft with 5 good linemen.
12th Pick belongs to the Raiders... my Guess is Geno Smith.
the pick is in... and it's: DJ Hayden, CB from Houston. nearly died on the practice field...now he goes to the Raiders. So he may actually think he is in hell.
13th pick is the Jets... Maybe they go Tight End? They could go D-line too?
-and the pick is... Jets take Sheldon Richardson, DT, Missouri
The Panthers have the 14th Pick... no idea what they will do.
DT Star Latulelei, Utah Good Player.
And at 15 we have, the Saints. They gotta be thinking defense.
The Saints pick Kenny Vaccaro, Safety, Texas
16th pick, belongs to the Bills, and it's gotta be Geno Smith or Ryan Nassib.
...and the pick will be... EJ Manuel, QB, Florida State. He's a bit of a surprise, and the first QB taken off the board.
Horrible Peanut weighed in on twitter to say: 1. He's going to miss Fitzpatrick. and 2. The Bill need some new blood.
17th Pick is the Steelers: Pass Rusher? Jarvis Jones maybe?
-And I nailed that one Too! Good Selection.
18th Pick, and the 49ers have traded into the Cowboys selection. Must be targeting someone? Who?
-Eric Reid, Safety, LSU. Makes sense, they lost a starting Safety in free agency.
from Dano the Mano:
So whose gonna pick te'o steelers or Vikings ?? Or will steelers trade for Tebow ??
19th Pick belongs to the Giants, and they just missed out on the top safeties.
-I'm thinking they could go Tight End. They Go: Justin Pugh, Tackle, Syracuse. Kinda surprised by that pick. Thought that guy would be picked in round 2.
20th pick - is the BEARs... I think it could be Mante Teo.
-Matt Zimmer of the Argus Leader tweets: De
ar Bears: Please take Manti Te'o.
-Gruden is talking like it could be the TE from Notre Dame, and so is Kiper.... foreshadowing?
-the pick is Kyle Long, Guard, Oregon. Weird. I didn't see that coming...and I really thought they'd do something else there.
21st Pick - Bengals have the pick here...and I'm not sure who they take... I need to look at the board.
-Tyler Eiffert, Tight End, Notre Dame. Pretty solid pick.
22nd Pick - is the Falcons. Maybe defensive line?
and the pick is Desmond Trufant, Cornerback, Washington
23rd Pick - The First of two Vikings selections... Corradelle Patterson the WR is just sitting there.
-So is Mante Teo.
-So is Sharif Floyd, the DT. I'd go Patterson. But that's me.
-Who do the Vikings pick?... Sharriff Floyd, the DT from Florida. That guy fell a ton.
24th Selection belongs to the Indianapolis Colts...who could go in any number of directions. Bjoern Werner DE from Florida State? makes some sense. And I nailed it! This is easily the best job I've ever done in the first round of a draft...and it was supposed to be the hardest one.
Vikings back on the clock with #25, and Patterson is still there... that would be a pretty good pick.
... and they take CB Xavier Rhodes, from Florida State.
So, three straight picks for the state of Florida, and 2 in a row from Florida State.
-Note from Timmah -
Boomer: The Vikings "first they got the Shariff, now they got the deputy"
26th Pick belongs to the Packers...and although their line stinks, and their defense needs work, Patterson is there, and they lost Brandon Jennings. Maybe I can answer my sick kid's question tomorrow...
-Packers take DE Datone Jones from UCLA, pass rusher. OK. This Patterson kid has to get picked, don't he?
27th pick is the Texans. They probably will draft someone who can illegally cut block someone while engaged, so they tear their ACL. I tell you what NFL, if you want to make "player safety" a concern... you better get rid of the "Shanahan Zone Blocking Scheme". Probably the dirtiest thing allowed in the League.
-WR DeAndre Hopkins, WR from Clemson. Expect lots of crackback blocks from him over the next several years.
28th Pick belongs to the Broncos.
Since espn have pretty much given the Broncos the AFC Championship already in this coming year, I don't think they need a pick. Or if they do...maybe it should be a fat, defensive tackle to fall on Manning's knee during training camp. (Hey I didn't wish injury on his Neck!)
-the consensus seems to be that they want a pass rusher to replace Dumervil, so ... I don't know! I didn't study many pass rushers.
Also, Shefty is tweeting that Minnesota is approaching NE about trading back into the first to get Mante Teo.
Broncos pick is in, and it is... DT Sylvester Williams.... just like I said, a big fat guy, to fall on Mannings leg during Training Camp. Perfect.
29th Pick belongs to the Patriots, lets see if Minnesota gets this trade done. I heard a rumor of three picks, to get back into the first. Belichick, just smiles, and laughs, and collects 2nd round picks.
- I wonder if anyone is going to trade back into the first for Geno Smith? That's gotta be hard, he was projected top 10, and top 20 at the latest.
-Dissappoinment of the draft so far, is that Leon Sandcastle has gone undrafted so far yet.
The TRADE is in... Vikings are in the 29th Pick... Could this be Mante Teo? Seems like it.
- The Vikings select WR Cordelle Patterson...so, I think they did this to make me look bad, because I picked them to take him twice, and they didn't...so they pick him when I think it's Teo.
-The Patriots collect a 2nd, 3rd, 4th, and a 7th for this.
- Good Lord, the Vikings better get a good player here. Never make a deal with the Devil. Do you remember the Randy Moss trade? That wasn't long ago? BB doesn't make stupid trades. He don't.
30th Pick belongs to the Rams.... Who could do alot of things... top guys on the board are: all pretty much D-linemen. And the Rams take a Linebacker, Alec Ogletree, from Georgia.
What happened to the guy from KState? thought Arthur Brown would be picked by now?
31st Pick belongs to the Cowboys. Maybe Demontre Moore from A & M? or a cornerback?
Johnthan Banks the Corner from Mississippi State is there. How about this for a surprise pick... RB Eddie Lacy from Alabama? Huh?
-The Cowboys select the Offensive Lineman from Wisconsin - Travis Fredrick... Played some Tackle, but will probably play Guard in the NFL. Man, that's alot of Guards in the first round.
Guards in the First Round - Cooper, Warmack, Fluker may move inside, Long is a Guard, Puegh will probably move inside, and then Frederick. That's 6 Guards in the first round...there goes the logic that you don't draft Guards in the first round.
32nd and Final, first Round Pick, belongs to the Baltimore Ravens.
The Ravens could go many ways... Arthur Brown or Domantre Moore? or a Safety like Cyprien?
-it always seems like the Ravens pick late, and just have a bunch of guys that will fit their system fall into their laps. It's crazy.
-and the pick is... Matt Elam, Safety, Florida -Seems like a good player, but a little "light in the pants" to play Safety in the NFL.
OK, I'll probably be back tomorrow night...but with not nearly as much detail.
Hope you enjoyed the first #Doofusdraft!