Why it's OK to despise Duke.
Normally, I'm not a "hater". I'm not into that. I like to cheer for my team(s), and hope for the best, and then (should they fail) pick another team (maybe one with a good story, or an underdog, or something like that) to cheer for. I don't usually participate in the "hate" that many do. Which is perfectly fine by the way. If you can talk yourself into hating the Green Bay Packers and Brett Favre more than life itself, and then turn around and cheer for him when he signs with your team, that's your prerogative. But that is precisely why I don't do that. Modern sports (particularly professional sports) lead to people "cheering for the uniforms", the players come and go, the coaches come and go, it really doesn't make much sense to have "hatred" for another pile of laundry.
Why is the hatred so widespread? Well, after scouring the Internet and reading a number of articles, I have a few thoughts.
Duke's fans
I am not talking about the "Cameron Crazies" here (they get their own section). I am talking your general, run of the mill, ordinary, 'one guy in the entire office who cheers for Duke' fans. First of all, at best you are a "bandwagon fan" who chooses to cheer for them because they are good every year. A very high percentage of Duke fans (I would wager 98-99%) have no affiliation or affinity to the university whatsoever. They didn't go to school there (Duke has a smaller undergraduate population than my Alma mater, South Dakota State), and they don't know anyone who went to school there, they just cheer for Duke because they are successful. Or worse, they choose to cheer for Duke to be antagonistic.
This is priceless, and a great example of why Duke fans are disliked, in general:
The Cameron "Crazies"
I know "Dickie V" loves them, and calls them the "best basketball fans in the world", and they are much ballyhooed throughout the college basketball world. They are beyond ridiculous. Other teams don't have good fans? The fact that "Kryzewskiville" is celebrated is a joke. Those kids are no more standing in line than you and I are.
The following story got a 'bit' of play during the past season, but not as much as you'd expect. Some Duke fans chanted "How's your Grandma?" to an NC State player, whose Grandmother had just passed away.
Also, back in 1988, North Carolina Tar Heel Scott Williams was supposedly greeted with chants of "Orphan!" from the Cameron Crazies. Williams parents had perished in a tragic murder/suicide the previous summer. And although many Duke sources deny that this ever happened, I did find this:
The story about the "orphan" chant was corroborated by several independent sources THE NIGHT OF THE GAME in 1989, including managerial staff, and several people working stats. I heard the story hours after it happened by some people who were upset in the actual sports info dept. - which means it was happening behind our bench. While I have no doubt that Ola Jero was not in a position to hear it, I have no doubt it happened.
Yes, I know it isn't verified, and yes I know it could just be a rumor. However, it's a rumor that still has life 25 years after the fact. That should tell you something about how the 'Crazies' are perceived, and the "Cameron Crazies" behavior does not lead one to believe them of being "innocent" of such things.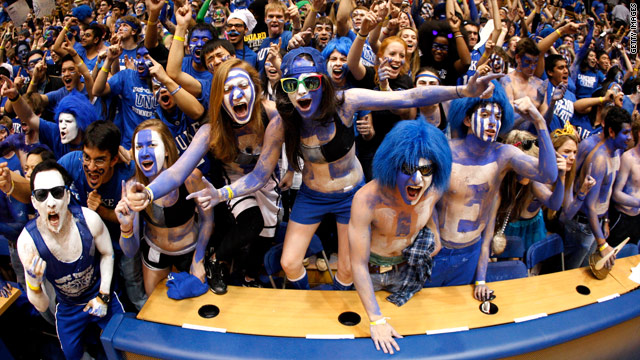 Just a "model" group of Cameron Crazies.
No matter how you slice it, the "Crazies" aren't helping Duke's reputation, and it is quite easy to see why their "antics" and behavior turn people to cheer against the Blue Devils.
Dickie V excluded, for obvious reasons.
What? Dickie V is biased? No way!
(
An aside on Dickie V, and his fascination with the Dookies
.)
What is his deal? Honestly, one time I was watching an ACC game between Virginia and Maryland (this was back when Maryland was contending, so around 2002, give or take a few years), and in the middle of the 2nd half, of a pretty good game, Dickie V. starts going off about Duke, and how good Duke is, and how great Coach K is, and what a great season they were having in Durham, and how fun the Cameron Crazies are, and I was just like.... Dick, there's another game going on right now, and Duke isn't even in the building? He did earn the nickname "Dookie V", and I really don't understand why, except for maybe Coach K was the first "reputable" coach to be nice to him? It's beyond weird.
The Duke Players
There have been a number of others. The guy who sits right next to Coach K during the games now? Assistant Coach Steve Wojciechowski? Was one of the more hated players (who really wasn't very good) of our era. Bobby Hurley was a decent college player, who I am convinced has still never committed a foul to this very day. And I'm not sure if there has been a more overrated college basketball player than Greg Paulus than any other player in history. It's not that he was terrible, it's just that he was very average at best, but if you turned into a game that Dickie V. was calling it seemed plausible that the next Bob Cousy was on the court, and running the show for the Devils.
This seems to be an ongoing issue with many Duke players. It's not so much that they are bad, most of them are decent players. But they are SO HYPED up. I mean, just this past season... Mason Plumlee was listed as a candidate for Player of the Year award early in the season! Mason Plumlee? Really? Had no one ever watched him play the previous 3 years? He is what he is. An above average center in the college game. Nothing more, nothing less. To even mention him as a possibility as the National Player of the year is beyond ludicrous.
This is why the Duke players are hated. We are so beaten to death with "The Alaskan Assassin" and "Duke hasn't lost with Ryan Kelly starting" that we take pleasure in them losing, and can't wait for them to graduate.
The Hypocrisy of Coach K
Coach Mike Krzyzewski is a fabulous basketball coach. You won't find me doubting his ability as a teacher of the game, as a strategist, or as a recruiter. He's one of the best ever, and deserving to be in the Basketball Hall of Fame. However, he's a big time college basketball coach, and he operates like one. Don't get sucked into the "Coach K. Aura".
Coach K- doing what he does best.
I understand that it's big time college sports, and that he's dealing with young men, and not little boys. But the public image of this man and how he actually behaves is quite different. Here's a quote from an opposing player (and yes, it's a Carolina guy, so take it for what it's worth).
In Conclusion